Blackfeet Nation Off Reservation Bison Hunt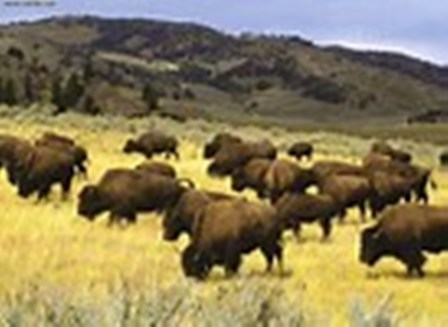 Tribal hunters are reminded that Blackfeet aboriginal hunting rights are a tribal right, not an individual right. The Blackfeet Tribal Business Council, Blackfeet Fish and Wildlife Commission, and the Blackfeet Fish and Wildlife Department all supported the current pricing structure for Yellowstone hunting licenses and tags as the best way to fund the presence of Blackfeet game wardens in the Gardiner/West Yellowstone areas. Blackfeet game warden presence demonstrates the Blackfeet Nation's commitment to exercise our off-reservation aboriginal hunting rights. They are there to assist Blackfeet hunters with questions regarding Yellowstone National Park, Gallatin National Forest, and Montana regulations pertaining to Yellowstone bison hunting and to ensure Blackfeet participation in the Beatty Gulch hunts. Therefore, all Blackfeet tribal hunters must have a Yellowstone hunting license and appropriate tags in possession before hunting off-reservation.
We encourage you to read the materials on every page
of this website.
Remember, this is an exercise of off-reservation aboriginal hunting rights that reflects upon the Blackfeet Nation and other tribes. All Blackfeet tribal bison hunters must read and be familiar with the Blackfeet off-reservation bison hunting orientation materials and agree to abide by Blackfeet fish and wildlife regulations governing the bison hunt. Although, we will strive to have Blackfeet Game Wardens present to enforce tribal laws, any time you are on Forest Service lands you are subject to numerous special regulations related to the Yellowstone Bison hunt. For example, tribal hunters have been cited for shooting across public roads, riding a snowmobile upon roads closed to snowmobiles, driving off established Forest Service roads, etc. It pays to stop by the local Forest Service office to obtain accurate maps and to find out what special regulations are in place where you may be hunting to avoid problems. Please hunt in an ethical way and abide by all Tribal, state and federal regulations governing hunting, camping, and any other activities you are engaged in while hunting in the Yellowstone area.
2021 YNP - OFF RESERVATION TRIBAL MEMBER HUNTING GUIDELINES, RECOMMENDATIONS, AND COVID-19 INFORMATION
Note:
Hunters must either select the Super Tag or select the individual species they want to hunt. A hunter won't be allowed to pick from both categories.

If a hunter prefers the Super Tag, select any the permits marked "Super Tags" and the system will automatically award all 4 permits.

If a hunter prefers to select permits other than the "Super Tag", select any of the tags marked YNP Bison, YNP Antelope, YNP Deer, or YNP Elk. A hunter may purchase up to two permits for any species.

All Blackfeet tribal bison hunters must sign the Yellowstone Bison Hunting regulations Acknowledgement form indicating that they have read and are thouroughly familiar with the Yellowstone Bison Hunting orientation materials and maps provided below.
These licenses are available online or by calling the Game & Fish office @406-338-7207.
Useful and Helpful links. Recommended that all persons read throughly.